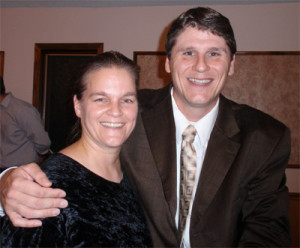 Meet Tom-  Tom was born in Joliet Illinois in 1969 at St. Joesph Hospital. Other than a nine year stay in Michigan as a young man, Tom has remained in the Romeoville and Joliet area. Graduating from Romeoville High School his background is in Telecommunications. He has over ten years as a service tech and then later as a Network Operations Technician for the local cable company. Toms entrepreneurial spirit inspired his small vending business while working for the cable company in his early twenties. Later on he started See Spot Go which was a weekly waste removal company for people with pets. He later sold that business and incorporated Aqua Pro Cleaning Solutions. Since starting the company Tom has accrued certifications from The Tara Group for concrete coatings and sealers, Elite Crete Systems for epoxy coatings, thin finish overlays and hermetic floor coatings, He is also a Wolman certified Contractor and holds additional certifications with the PWNA and The Contractor's Foundation in wood, house and roof restoration. In 2007, his company, Aqua Pro Cleaning Solutions was named Contractor of the month by Cleaner Times Magazine and then again later that year at the deck expo in Las Vegas Nevada, contractor of the year. That same year he also served on the committee for Clean Across America and took part in the restorative cleaning of the Lincoln Memorial in Washington DC. Tom has been married for over 25 years, has two grown boys and four grand boys at this time. His faith is Apostolic Pentecostal and he enjoys a variety of outdoor activities including hunting, fishing, boating, hiking, camping, shooting sports and disc golfing. He also holds teaching certifications in Jeet Kune Do concepts and Filipino KALI with Progressive Fighting Systems and has taught both civilian and local Police. At this time Tom is continually looking for ways to improve his residential and commercial restoration company to further meet the needs of the communities he resides in and supports.
The Company- Aqua Pro Cleaning solutions is a professional power washing and exterior restoration company. Some areas of specialty include wood restoration, house washing, brick restoration, concrete cleaning and sealing, patio and driveway paver restoration and graffiti removal to name just a few. Our equipment includes a 16 hp Landa Hot/Cold/Steam unit delivering 3000 PSI at 5 gpm and belt driven cold water units which are capable of meeting almost any cleaning need you may have. We use only environmentally safe cleaning agents and follow safety protocols that meet or exceed industry standards.
Aqua Pro originally started in 1998 as Hydro Pro. We updated our name and enhanced and expanded our coverage area in 2005. However our commitment to excellence in providing restoration services to our customers has never changed. We are family owned and operated, bringing you personalized attention with that "mom & pop" feel America was built on. Having spent the last 24+ years in the service industry has taught me a few things about maintaining customer satisfaction and I look forward to servicing the greater Chicago-land area with much anticipation in the future.
Our staff is professionally trained and strives to keep abreast of the latest trends and techniques our field of business offers, bringing you the best possible service year after year. Aqua Pro cleaning Solutions is a proud member of the United Association of Mobile Contract Cleaners (UAMCC) and subscribes to their policy of providing quality work with competitive pricing. We hold certifications with the PWNA (Power washers of North America-past member), Elite Crete Systems, Wolman Certified Contractor, Contractors Foundation and the TARA group. In 2007 we served on the Clean Across America committee and took part in restoring one of our nations most sacred landmarks, the Lincoln Memorial.  That same year we received the contractor of the the month award.
Our commitment to excellence will guarantee that we will not become just another "pressure-washing company." Furthermore, we maintain close ties to industry leaders like Henry Bockman from Henry's Housework and Everett Abrams from Deck Restoration Plus to ensure we are up to date on product improvements and crucial industry changes. We also understand that no one company can "do-it-all" which is another reason why we have partnered with other professionals.
As such. if we come across a job that we feel is out of our area of expertise, we will do our best in finding you the right contractor for the job to make sure that ultimately you end up with the best possible service.
To further satisfy our customers, we offer a payment plan option as well as convenient payment choices. We are fully insured and carry work-mans comp for peace of mind and protection of our employees.
Thank you for considering Aqua Pro Cleaning Solutions as your exterior restoration service provider. We hope you find everything you need here on our website. If not, please feel free to call us anytime at (630) 723-9296 or fill out the contact form and we will be happy to assist you.
Sincerely, Thomas McMillan
Aqua Pro Cleaning Solutions.
CODE OF ETHICS
---
I will at all times, conduct my business in a fair and honorable manner. I pledge to represent our products and services as they actually are, to do what I promise and to promise only what I can reasonably do, to compete fairly with others on the basis of the merit of my products and services, and to refrain from making false or misleading statements about my competitors or their products or services.
I commit to help any and all fellow contract cleaners  in the furtherance of industry knowledge.
I further pledge to perform all services within my standards and through the use of any Best Management Practices.