Your deck, fence, gazebo or other wooden exterior features of your home are valuable assets that need protection. It doesn't matter what the age of your wood surface is, brand new or many years old, they are constantly exposed to the damaging effects of weather, insects, moss, foot traffic, physical wear and ground in dirt. Unprotected wood will crack, fade, split, cup and warp with time, all things that reduce the value of these assets and your home.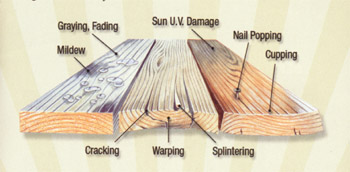 Some facts: Rain, snow and morning dew are absorbed by unprotected wood, causing it to swell. When the wood later dries, it will shrink. This constant swelling and shrinking causes wood to warp, split, crack and discolor. UV light and mildew are other factors that contribute to wood decay. A sealer that includes UV protection as well as a mildewcide will help keep your wood exteriors looking beautiful for years to come by keeping the elements out and the beauty in.
Horizontal deck boards will hold water and snow for prolonged periods of time which attracts fungal spores, causing discoloration. Decks are also subject to 40 to 50 percent more direct sunlight than comparable vertical surfaces, which results in thermal stresses to wood.
Over 80 percent of wooden decks and fences are pressure treated. Contrary to popular belief, this treated wood (usually pine) is not protected against the weather. In fact, it actually makes the wood surface more porous, leaving it more susceptible to moisture damage.
That's why its so important to protect your investment with services provided by Aqua Pro. We can restore your old sun damaged gray, dirty deck to its natural beauty and color and treat it with a high quality sealant like Flood which will protect it from excess moisture that can cause exterior wood to shrink and swell severely.wood restoration
Glossary:
Transparencies
Preservatives
UV Protection
VOC
Not all power washing companies are created equal
We use a low pressure method for our wood cleaning services in conjunction with professional grade products to ensure your restoration meets industry standards. We are certified by the Power Washers of North America, Wolman and the Contractor's Foundation in wood restoration.
Exterior wood restoration has certain logistics that need to be adhered to get the best results. Sadly, inexperienced or uneducated contractors that have not made an investment in education, equipment, cleaners and sealers that should be used often times fall short in their endeavors to clean and restore your deck or fence.
Deck Cleaning isn't a quick and simple job like most people think, using the wrong methods for deck cleaning can cause irreversible damage. (Damage 1, Damage 2, Damage 3, Damage 4, Damage 5)
At Aqua Pro Cleaning Solutions, every deck or fence is evaluated to discover what the best method of restoration service is needed. Whether it simply needs to be treated with Disodium Peroxydicarbonate, or stripped and neutralized to restore the proper pH balance of the wood.
We inspect the surface of the wood for stains, mildew, UV light damage and other conditions. If necessary, reset nails or tighten loose rails. The deck, fence, play-set or gazebo is always power washed using a low pressure approach. Too many contractors think the power or PSI is needed to strip a failed stain which only leads to further damage.
All of the wood care products that Aqua Pro uses are friendly to the environment, meeting or exceeding the latest environmental regulations.
Call, email us via our contact form or visit the online estimate link to get the process started today of restoring your exterior wood back to the beauty it is capable of!
"The most important thing for any consumer to know is that wood restoration takes knowledge, skill, and experience to do the job correctly. The power of a power washer in inexperienced hands can cause unrepairable damage in a matter of seconds. The use of pressure like 3,000 PSI to powerwash can destroy wood and similar surfaces! Using a contractor with experience, knowledge of the right cleaners, and the proper equipment is the most cost-effective way to get the job done. That's why it's important to use an established, experienced contractor instead of concentrating on finding the lowest price. PWNA Contractors are required to be insured for your protection and many are certified in their specialty. Choosing a professional member of PWNA is your best assurance of quality work." -PWNA