The information contained on this page may change from time to time as the industry evolves. Our aim is to help clear the air of a few misconceptions, scams or no-no's in our industry. Furthermore to list ideas, advise or topics that may save you money down the road. All of this information can be found on the Internet if you know where to look so it's nothing "top secret." Just some things that may help you along the way. It's our job to know what's right and what's wrong in our industry. You have to put some trust in whomever it is you hire.
I hope you can find something here of value. If you have a question that is not on this web-site. Please call us at (630-723-9296) or use our contact form and I will be happy to assist you. If I don't know the answer, I won't stop until we both get the one that's right!
1) New Illinois VOC law information
2) How Long should I wait to seal my new deck?
3) Maintenance tips
4) I'm thinking of having a composite deck built. Am I wasting my money?
5) A great article by Everett Abrams on Deck Restoration: Breaking down the myth "can anyone do it?"
6) Why Should I seal my concrete?
7) HELP! Our deck is trying to kill us!
8) No-no's, scams and "what to look for in a contractor"
9) So what's the difference? water repellents, WRP (water repellent preservative), varnish, solid-color stains, semi-trans, paints.

Important information regarding new Illinois VOC laws and your deck
New AIM/VOC (volatile Organic Compounds) regulations for paints and stains went into effect on 07/01/09 in Illinois. These regulations are similar to those that have been implemented in other states such as Maine, Delaware, DC and Ohio.Under the new regulations, lower VOC limits will be in effect for approximately 54 coating categories, such as flats, non-flats, primers, stains, varnishes and industrial maintenance coatings. All coatings sold or used within Illinois must comply with the new VOC limits.
What does this mean for you, the homeowner?
Many existing oil-based primers and finishes are not compliant with the new regulations and are being replaced by low VOC alternatives. Unfortunately, almost all of the major paint and stain manufactures have replaced these products with new hybrid acrylic alternatives, finding it more cost effective to do so vs reformulating their oil based stains to comply. It is very difficult, if not impossible to find oil based stains on the shelves in Illinois these days.
There are many drawbacks to using these new "hybrid" products. These types of coatings are generally tacky or sticky on touch which makes the application process more difficult. They are also prone to peel and flake much like a traditional paint would do. Further confusing the consumer, a good number of them say "penetrating oil formula" on the can, when in fact they have very little oil in them at all and they adhere more as a film former than a penetrating stain. Lastly, these coatings are very difficult to remove should you ever decide to change the color or when it comes time to restore your deck or fence in the future.
The technology and chemistry of the stain removers have not kept up with the technology of the stains themselves. The homeowner is often left with costly solutions. 1) Sand the deck down to bare wood. 2) Use extremely harsh chemicals such as Methelyne Chloride to strip the waterborne product which are far more dangerous than conventional deck strippers and are very environmentally unfriendly (which ironically defeats the purpose of the change to begin with)  or 3) Recoat the deck with a solid.
Aqua Pro Cleaning Solutions Answer to this Change
Many existing Aqua Pro customers have expressed their concern over these industry changes and have asked that we provide them with  a viable oil based alternative to the new hybrid acrylics on the market. We agree with our customer's desire to meet this demand and are still of the opinion that penetrating oil based stains are what's best for your exterior wooden structures. We have been conducting tests on various oil based stains that meet or exceed the new VOC laws set forth by the state of Illinois and are happy to announce that all of our current and/or new deck and fence restoration clientele that currently have an oil based product will still have access to VOC compliant penetrating oil stains in multiple colors.
Please call us today to set up your estimate.
-Tom McMillan
President
Aqua Pro Cleaning Solutions
The popular opinion is "wait at least one full year for the wood to age." This is the standard answer from those that know part of the story. Although an aged deck will accept more product (stain),  it is also true that the wood on your new deck will begin to degrade very quickly without protection, often within the first few weeks. So how long should you wait until you put that first coat of stain on there? Well, there is no definite answer to this question but there are some points to consider and general rules of thumb to follow.
1) UV light and water absorption will begin working on the cell structure of your deck very quickly. Water will wash out the natural resins and color in the wood. That coupled with UV damage from the sun, your deck will begin to turn gray. Some people like the weathered look and that's ok but there are ways to keep/attain that look while still protecting the wood. The real problem with allowing a deck to gray with no protection is decay. To avoid decay, wood must be all heartwood from a decay resistant species such as redwood or Western Red Cedar. Wood that has a flat grain is also more prone to split and cup. The higher the shrinkage percentage, the quicker unprotected wood will take this turn. Flat grain Western Red Cedar is at 5% compared to 2.4% for  vertical grain. Southern Pine is at 8% and 5% respectfully. Horizontal decking holds water, snow and dew for longer periods of time which accelerates damage. Deck floors get 40%-50% more UV radiation from sunlight than vertical surfaces.
2) Pressure treated Pine should be sealed in about 6 weeks from installation. This is assuming that the deck has not been exposed to excessive moisture. WOW, from a full year down to 6 weeks after installation? YES! The cells of PTP (Pressure Treated Pine) remain full of natural moisture for a longer period of time. The surface however begins to dry out more quickly as it is exposed directly to drying agents such as the sun and wind. As the cells in PTP begin to dry out, they shrink. That's when the wood will start to split and crack. Putting a good penetrating oil based sealer on your deck up front will prevent about 95% of the cracking just by virtue of getting something on or more specifically in the wood. Essentially you are giving the wood an ulterior moisture source. Because the pores of the wood are very tight and there is a high moisture content remaining in the wood, you will have to redo the deck the following year. The extra money you spend on the initial sealing however is a small price to pay compared to the excessive splitting and cracking you would have had if the deck would have remained unprotected all that time.  Western Red Cedar and Redwood (the two most popular species of wood for exterior decking besides PTP) have a low density/moisture content from the kiln and can be stained within the first week. Although WRC is more resistant to decay naturally, the lack of old growth forests leave us with mostly juvenile sapwood to work with. The bottom line for all species is early protection will never hurt but will help to protect your investment by preventing problems early on.
Deck Maintenance tips:
Check for wood to ground contact for any part of wood decks. Only wood that is pressure treated and rated for ground contact should be in contact with the ground. Typically only 4 inch by 6 inch wood columns or larger are rated for ground contact. Ideally, all deck columns should be supported by masonry footings that extend above the ground.

Check for loose deck and porch railings periodically and repair if needed.

Verify that all openings in deck and porch railings are no larger than 4 inches. Openings in railings larger than 4 inches is a safety hazard for small children and measures should be taken to reduce these openings to 4 inches or smaller.
A clean deck lasts longer. Keeping a wood deck clean is a good way to avoid costly maintenance later. Debris that clogs the spaces between deck boards traps moisture, encouraging mildew and rot.  Blast out the debris, using a powerful nozzle on a garden hose, then push out remaining debris with a putty knife or an old handsaw.
If any part of your deck stays wet for a day or more after rainfall, take steps to see that it can dry out. You'll probably need to sweep away leaves and dirt from between the boards, or where the deck meets the house. Perhaps a bush or tree limb needs to be trimmed back, or a gutter downspout moved to direct water away from the deck.
But what about the grill?
What if you forgot to clean it before putting it away for the winter? First you want to be sure that last year's gas connection is still safe. Just mix some dish soap and water and brush it onto the connection, so that if any bubbles form when you turn on the gas, you will know there's a leak and it's not safe. The next step is to use a wire brush to get off as much of the baked-on grease and food that you can. Sometimes it's easier to do this if the grill is hot. Also, a little trick to make cleaning easier next time is to spray on some nonstick cooking spray.
What's the best way to clean screens before you put them back in place for the summer?
Many people remove screens from windows and doors for the winter and store them. Before you put the screens back in for the summer, you can give them a quick inspection. You may notice that they've accumulated some serious grime: flyspecks, street dust, etc. Obviously you don't want to put them back in a door or window before cleaning them. And you don't want to try to clean them by holding them upright, because you can stretch or even break them if you're not careful. The best way to clean them is to put down a cloth to keep from scratching the frames, then lay them flat on a hard surface, hose them down and scrub them with a little all-purpose cleaner. Rinse them, tap off the excess water, and you're good to go. What is the best cleaner? Lots of supermarkets and home improvement stores are carrying a variety of environmentally-friendly, biodegradable cleaners now that are pretty potent. There are ones that come concentrated, so you can dilute it to the strength you want, and you can use it anywhere around the house.
What about outdoor furniture?
Can you use the same cleaner for those items as well? Yes you can. You've probably got the same problem with the plastic lawn chairs that were left out all winter — they're pretty grimy. If you let some of the cleaner sit there for a while, the grime will come off easily by using a scrub brush and a hose. Speaking of lawn furniture, you can salvage a simple little wrought iron table and chairs that you might find at a flea market or yard sale for about $100.
How can you restore iron furniture with a lot of rust?
With things like this, you shouldn't let bad cosmetics fool you. All you need to do is take a wire brush and maybe some sandpaper to the rust and the old flaky paint. After the old coating is removed, wash down the piece and let it dry. After it dries treat it with a good metal primer. Then you can pick your favorite color and repaint it. The whole process really goes pretty quickly.
Here is another trick for seats that look in bad shape, or ones that are actually missing. To fix the problem, use the old seat as a template and cut a new seat surface out of 3/4″ plywood. Then treat the wood with a moisture-resistant acrylic polyurethane. You'll want to make the seat comfortable, so cut some 1″ foam to the seat's shape. You can cover the foam with anything waterproof. You could use some vinyl for a cover and secure it to the seat by stapling it onto the bottom. After your spring chores are done, sit back and relax, enjoy your summer!
What can you do if you have wooden outdoor furniture?
Here are some tips to get pieces like those ready for a new season. Take old wooden chair frames as an example. They lost their canvas covers long ago and need some help but are basically still intact. All you have to do is sand them down and add new canvas covers. You can find replacement canvas covers at outdoor stores or home centers. So you can see that with a little bit of know-how and creativity, getting ready for the nice weather really isn't a chore at all. Now you're all ready for the beach!
© HomeWorld Media
You will ultimately have to be the judge on what's right for you but the following 2 bits of information have been compiled to give you another view of composite decking that you may not have heard. There is always "the other side of the story." Carefully evaluate the following information and then research it elsewhere to compare.
1) Very good article written by Garden Structure CEO Lawrence Winterburn
Excerpt from article: "I am often approached by composite decking companies who want us to purchase composite decking materials and help them market their products. I tell them all the same thing. Give me 5 names and numbers of happy customers more than 3 years old, within 2 hours of my location. I would be ecstatic to see a great composite decking material first hand—and I would visit and see these products for myself." 
2) Cedar Vs. Composite Decks:
Despite Trendy Substitutes, Wood is Still Good
For decades, if you mentioned that you were building a new deck, everyone would assume you meant cedar. The classic wood has a hard-won reputation for durability and beauty. Not much can compare to the natural warmth and charm of genuine Western Red Cedar but in recent years, there has been a big push for using newer composite decking products instead of wood. After all, the new products are being hailed as maintenance- free, environmentally friendly and virtually indestructible. Who wouldn't want that kind of deck? Yet composite materials do not always live up to their own hype. Here are some important considerations to weigh before choosing to use something other than cedar.
Maintenance Free?
Contrary to popular belief, composite decking will require maintenance. Most manufactures boast "ten years maintenance free." In reality, a properly maintained wooden deck will last well beyond that time frame. The rule of thumb is, if it contains any wood at all, it will need a preservative. Composite decking is comprised of about 50% wood fibers and 50% plastic polymers. Red oak contains a high tannin content which will leach to the  surface causing extractive staining. These migrating tannins are extremely difficult  to remove from composite decking and appear as black streaks across the planks.
Mold & Mildew: The Untold Story:
There are contractors who build decks, and then there are contractors who care for decks. When you're building something you're going to have to live with for years, it's important to talk to both. Professionals who maintain composite decks will tell you they can be prime candidates for mold and mildew – both on the surface and in the composition of the product as well. Not only will mildew growth make the deck surface look unattractive, it also makes the surface extremely slick and dangerous to walk on. To counter it, manufacturers often recommend soaking the deck in bleach. However, bleach is highly corrosive to wood-fibers and may jeopardize both the color and integrity of the deck over time. And bleach cannot prevent re-growth of the mold and mildew.
Tread Softly, Please:
To compensate for the "slippery when wet" factor, some composite decking manufacturers have added ridged surfaces or brushed grain. While this can improve the slickness associated with moisture and mildew, ironically it also provides a better grip for the mold and mildew making it more difficult to remove. Traffic patterns will wear more noticeably with composite decking products and dents and scratches cannot be sanded out. Areas on stairs, around furniture and near doors see much more activity. Be careful about choosing a material that will wear more quickly.
Stains That Stay:
You've been there: Cooking some steaks on the barbecue when some grease splatters on the deck. If your deck has been coated correctly, such a mess cleans up fairly easily. But composite decking is often left raw, and stains often seem to set permanently. Once oil has bonded with the decking materials, it can be difficult if not impossible to remove.
That Sinking Feeling:
Composites are significantly heavier than regular wood, and have been known to sag between joists. This can result in a bowed, unsightly appearance. Part of the problem is that composite decks are typically built on wooden supports. The rate of expansion and contraction is different for composites than it is for wood. As a result, changes in temperature and humidity will affect them differently, which can lead to sagging..
Sure is Hot Out Here
Many home owners comment about how much more heat their composite deck retains. Wood is a naturally good insulator, keeping a deck cool. Composites do not breathe as well, and therefore tend to lock in heat. Many plastic based products become too hot for you to enjoy the deck in the summer. That may not be a factor typically considered when building a deck. But if you live in a warmer part of the country, shaving a few degrees off the outdoor temperature can make a big difference as to how enjoyable your new deck will be.
Saving the Planet, One Deck at a Time
One of the biggest selling points used for composite materials is that they are earth friendly. They consume fewer trees and recycle plastic. That sounds great on the surface. However, the environmental issues are a little more complex than they might appear. Creating plastic in the first place requires far more energy usage than it takes to harvest a tree. Plastic also comes from non-renewable resources, while trees are replanted and grow back. In fact, America grows 30% more wood each year than it harvest and has more forestland today than 100 years ago. What's more, wood is entirely biodegradable. At the end of its life cycle, it can be absorbed by the earth without negative impact. But plastic based products sit in landfills for years and years without breaking down. In addition to being renewable and biodegradable, Cedar does not require treatment with toxic chemicals because it is naturally resistant to rot and insects, and its own natural preservatives help protect it in harsh weather. In other words, Western Red Cedar is ultimately more earth friendly than composites. 
Looks Aren't Everything, But They Help
Let's be honest: composite decking isn't exactly pretty and no one will mistake such artificial products for the natural products whose appearance they try to imitate. Anything made up of wood fibers and plastic will need some serious help to look decent. And even though it often comes in a variety of shades, composite decking remains more of a paint grade product. That is one of the primary selling points of cedar that remains true to this day. No substitute product has been able to capture the look and feel of genuine western red cedar. Any survey of homeowners will show that cedar still remains the hands-down favorite when it comes to appearances. Fads will come and go. Yet when you closely examine the options, you discover there is still much in favor of sticking with a classic such as cedar, a building material with centuries of proven performance.
Exterior Wood Restoration
Breaking Down the Myth:
"Can Anyone Do It"
The answer is… of course "anyone" can do it ! However, only a true professional can restore exterior wood correctly: This article will breakdown the myth that "anyone can do it" by explaining the pitfalls , the detail involved, what to look for in a contractor, as well as explain what exactly is involved in an exterior wood restoration project. First, let's ask a few questions, the same questions a contractor may ask or consider prior to estimating or beginning your project.. What is the history of the project? (Decks, Fences, Wood Siding, etc.) How many coats of sealer/stain are currently on the surface?
What is the new coating going to be? Sealer ( with/or without a tone), Semi-Transparent , or Solid What are the differences in each?

Does it need to be stripped and neutralized/brightened?

What is stripping and neutralizing/brightening?

What happens if the stripper isn't completely rinsed off?

How is salt formed on the surfaces and how could it affect the project? Does it have to be pressure washed?

What size nozzle tip should be used?

What is a tip?

What are the different methods for application and their differences?
This just scratches the surface of questions. If you can't answer even one of these questions whether or not you are a consumer or contractor, you are probably already in over your head To restore exterior wood "correctly" it takes much more than a pressure washer and a water supply. Actually , if you are relying on the pressure of the water to do the cleaning, stripping , or part of the surface preparation, you are doing it incorrectly. Matter of factly , probably scarring or damaging the wood surfaces you wanted restored.
This industry often times has the reputation of the "fast food drive-thrus." Consumers feel they are often not getting what they pay for. This exists because people are paying "fast food" prices to 'fist food" contractors. Because a contractor owns a pressure washer does not mean that they are a professional in exterior wood restoration. The other side of this is if you spent the money on the investment of wood siding, a deck , a fence , etc.- , why would you let just anyone restore it? Further and specifically , if you think that a contractor is going to come along and offers to restore your wood for less than $ 1.00 sq/ft. ,then you are probably going to get what you pay for….headaches, problems, and disappointment. Depending on the preparation involved , previous coatings , height of work , type of finish coat to be applied , and other factors $3.00 sq./ft. and ever may not be out of the question. Understanding the downside of not keeping up with proper maintenance it may cost much more in the long run.
Understanding the differences in the types of wood ; coatings ; chemicals ; procedures and methods ; cleaners/strippers/neutralizers ; cornblasting ; pressure washing ; rollers vs. brushes vs. sprayers ; and maintenance coats are just the tip of the iceberg. It does take experience and education to do the job properly. Let's look at the contractor qualifications and characteristics. The contractor should be able to offer proof that they have knowledge of the trade by certifications, affiliations to manufacturers , distributors , franchises , business or trade organizations. Most of the reputable manufacturers and organizations offer courses and/or certifications. A consumer should feel free to ask if a contractor has any of these in their background. Some examples of these maybe, the Pressure Washers of North America(PWNA) , stain and sealer manufacturer certificates or affiliations , the Better Business Bureau , a Chamber of Commerce , or any way to determine they are in fact a "professional" with knowledge of the trade. A professional contractors appearance and conduct is just as important. Look for things like uniforms, logos on items like business cards, stationary, vehicles, etc.. The contractor who gets out of an old broken down car or van with a pressure washer hanging out of the back , who then knocks on the door wearing the clothes they slept in the night before is probably someone you should not hire. Don't be afraid to ask questions like ; Are you affiliated with any organizations? , What are your qualifications? , Do you or your company have any certifications?, What is your experience/ , and What types or brands of coatings do you use and why? , just to name a few.
It certainly takes much more to restore wood correctly than it may look. Just ask anyone who has tried to do their own deck or the person each year spending an arm and a leg , time , and effort , and still can't get it to look the way they want. It is amazing what some folks will spend to get a piece of indoor furniture restored by a professional but not their larger, more costly exterior wood. It would be like a fast food restaurant offering a 5.99 Filet mignon steak meal. If you wanted a filet mignon meal you usually wouldn't go to a place that is offering it for $.99. So, the question is ; Why would you expect a 1,000 sq.ft. wood restoration project be performed for $200.00 to $300.00? It just doesn't make sense.
In conclusion ,"Can anyone do it?" , of course- But should "anyone" do it ? Look for a professional contractor in your area and protect your investment.
Written by ; Everett Abrams 01/03/03
Deck Restoration Plus
Shamong, NJ
1-866-440-3325
www.deckrestorationplus.com
Why seal my concretete?
Is it necessary?
     What you do to your concrete in the first 90 days, can determine it's life !
What you do after 90 days may save it !
If it wasn't important and many times mandatory to seal concrete, then why have concrete scientists, architects and material engineers been sealing concrete for 50 years? Here's why, because it is a fact, not somebody's opinion that sealing concrete protects, strengthens and improves overall life and appearance.  The problem here is contractors and finishers have not or will not take the time to complete the job. There is an old attitude with concrete placement and that is to put it down and get out, usually to the next job. Always fighting time, weather and money do not make it easier to get quality work. When there is a great market for this field, which there is, then why mess with the details if another bigger better paying job is around the corner. Consequently inferior work follows such a trend. Did you know that concrete is the world's second most used resource other than water.
Point in case, whenever you see good condition concrete after years have gone by, makes you wonder what they did to preserve it so well. The key is to do it right in the beginning or treat it as soon as possible no matter what the age or condition. If you have the ability to control the cure then seal, this will always be the best scenario, but don't get discouraged if it is now or 50 years later, you can still step in and deter future problems.
In addition to the physical properties of concrete the chemical properties are often overlooked until damage is beyond repair or expensive to rectify. In actuality physical deterioration is usually caused by the lack of chemical concrete properties protection.
Let us close with some facts and tidbits that should hit home.
Sealing Concrete with a Siliconate

 densifies and strengthens new concrete
10-15 % and 50-65% in deteriorated concrete
Finishes the job, completes closure, chemically linksw/concrete substrate
      Significantly prevents intrusion of impurities: Examples
o Chlorides ( salts, salt in the air ) cause for aggressive corrosion
o Hydro-carbons & carbonation, carbon dioxide from the atmosphere
                      penetrates concrete, reacts, lowers ph and corrosion begins
o Mold, mildew, oil, rust stains, acids, chemicals, sugars, fermenting  
     liquids, animal oils-urine & most stains in general
o ASR-Alkali silicate reaction, pitting, churting, flaking, scaling, aggregate       
                      popping, crazing, hairline cracks & freeze/thaw problems
50% of concrete problems are the concrete composition, 30% is the way it is placed or finished, 10% is the cure, 10% is the seal. Chemically matching the cure & the seal is the most optimum protection for your concrete.Think Again ! It absolutely will. You're contractor put some kind of stuff on your concrete, well yeah….some kind of stuff….but not a Deep Penetrating Commercial Concrete Sealer.Why should he … it's not his concrete. Protect your investment NOW or PAY later to Repair it !
A penetrating Siliconcate when applied to concrete will create a Chemical Fusion In and On your concrete. It goes far beyond traditional sealers. Over the counter sealers  breakdown quickly from Salt & Abrasion. Siliconate sealers create a hydrophobic barrier with significant results in salt damage prevention, unsightly stains from oil and rust, giving your concrete optimum protection.  Ever wonder what they use on Bridges, Tunnels, Highways, Historical Monuments and now Residential applications……???
Think That One More Winter Won't  Hurt Your  Concrete?
Between 2001 and 2002 news publications such as USA Today announced to the public that a potential health risk existed in their neighborhoods. Pressure treated lumber used in fences, decks, picnic tables, playsets and other outdoor structures was a target of an EPA investigation. Chromated copper arsenate or (CCA), a chemical compound mixture containing arsenic, copper and chromium has been used as a wood preservative since the 1940's. Lumber mills use a high pressure injection system to saturate wood products with these chemicals. The intention is to protect wood from rot, fungi, mold, termites and other pests that can threaten the integrity of wood products. The suspicion was the poisonous chemicals could leach from the wood to the surface when exposed to water. The exposed chemicals could then be transferred by touching the wood. The second concern was soil contamination. Children were the most vulnerable since many playgrounds were made out of PPT (Pressure treated lumber.)
A lethal dose of arsenic to a 150lb adult is around 42 mg over a days exposure. A child much less. To put this in perspective, an 8 foot long 2×4 contains about 11,000 mg of arsenic. The actual amount on the surface after a rainfall however is extremely low. Hand to mouth transfer could potentially occur within children playing on these structures.
The EPA has not concluded that CCA-treated wood poses unreasonable risks to the public for existing CCA-treated wood being used around or near their homes or from wood that remains available in stores. EPA does not believe there is any reason to remove or replace CCA-treated structures, including decks or playground equipment. EPA is not recommending that existing structures or surrounding soils be removed or replaced.
So what should I do about my existing deck or play equipment then?
From the EPA:
While available data is very limited, some studies suggest that applying certain penetrating coatings (e.g.., oil-based semi-transparent stains) on a regular basis (one re-application per year or every other year depending upon wear and weathering) may reduce the migration of wood preservative chemicals from CCA-treated wood. The EPA's website reports that "while the top two performers were film-forming coatings (e.g.. paints), the other more typical deck treatment products–specifically sealants and stains performed similarly in reducing the amount of dislodgeable arsenic at the surface of the wood."
The EPA went on to state that film-formers like paint and solid color stains, even though they performed well, were NOT the best choice because of the potential for chipping and flaking. penetrating sealers were the overall preferred solution to the problem. most of the oil-based wood sealers used today are defined as penetrating sealers.
Various trade and consumer groups, some state governments, and a Science Advisory Panel (SAP) recently convened by the U.S.. Environmental Protection Agency's Office of Pesticides, have made similar suggestions concerning surface coating of CCA-treated wood to reduce potential exposure to chemicals found in this wood. Based on the limited available data, these groups have suggested that applying certain penetrating coatings (for example, oil-based semi-transparent stains) on a regular basis (for example, once a year or every other year depending upon wear and weathering) may reduce the migration of chemicals in the wood preservative from CCA-treated wood. However, in selecting a finish, in some cases, "film-forming" or non-penetrating stains (latex semi-transparent, latex opaque, and oil-based opaque stains) on outdoor surfaces such as decks and fences are not recommended as subsequent peeling and flaking may ultimately have an impact on durability as well as exposure to the preservatives in the wood.
*portions of the above article taken from the Nov 2005 issue of Cleaner Times
Please read the following FAQ for further information.
FREQUENTLY-ASKED QUESTIONS ABOUT CCA-TREATED LUMBER AND WOOD PRODUCTS
Larry Jahn, Wood Products Extension (Retired), Dept. of Wood and Paper Science, NCSU
On February 12, 2002, the Environmental Protection Agency (EPA) announced a voluntary decision by industry to move consumer use of treated lumber products away from a variety of pressure treated wood that contains arsenic by December 31, 2003, in favor of new alternative wood preservatives. This transition affects virtually all residential uses of wood treated with chromated copper arsenate, also known as CCA, including wood used in playground equipment, decks, picnic tables, landscaping timbers, residential fencing, patios, and walkways/boardwalks. By January 2004, EPA will not allow CCA products for any of these residential uses. This decision will facilitate the voluntary transition to new alternative wood preservatives that do not contain arsenic in both the manufacturing and retail sectors. Although the Agency has not concluded that there is unreasonable risk to the public from these products, they do believe that any reduction in exposure to arsenic is desirable. This action comes years ahead of completing the Agency's regulatory and scientific assessment of CCA and will result in substantial reductions in potential exposure to CCA. Here, in a brief form, are some of the questions you may have about pressure treated wood used in residential settings during this transition period.
************************************************************
1. What uses of CCA pressure treated wood are affected by this transition period?
After December 31, 2003, wood treaters will no longer be able to use CCA to treat wood intended for use in decks, picnic tables, landscaping timbers, gazebos, residential fencing, patios, walkways, and boardwalks, and playground equipment. Wood treated prior to this date, however, can still be used in residential settings. Already built structures containing CCA pressure treated wood are not affected by this action.
2. Does CCA pressure treated wood present any health risks to me or my family?
EPA has not concluded that CCA pressure treated wood poses any unreasonable risk to the public or the environment. Nevertheless, arsenic is a known human carcinogen and, thus, the Agency believes that any reduction in the levels of potential exposure to arsenic is desirable. EPA believes that the voluntary transition to non-arsenical containing wood preservatives for residential sites is a responsible action by the registrants. Concerns have increased that arsenic pentoxide, chromium trioxide or copper oxide released from the surface of CCA pressure treated wood used in playground equipment and decks can harm people or the environment. although experts disagree on the severity of the threat posed to children or other users of pressure treated wood products, many consumers are seeking methods to minimize any risk of chemical exposure. Coatings or sealers are often recommended, but their efficacy in preventing leaching has undergone little evaluation.
To address this question, researchers at the Forest Products Lab (FPL) recently evaluated the ability of three common coatings to reduce leaching from CCA pressure treated wood. Replicate matched specimens of pressure treated 2 by 6 lumber were given one of the following coatings: (1) latex primer followed by one coat of outdoor latex paint, (2) oil-based primer followed by one coat of oil-based paint or (3) two coats of a penetrating oil semi-transparent deck stain. The specimens were then exposed to 30 inches of artificial rainfall for three weeks. The water running off the specimens was collected and analyzed for preservative components.
The results were very promising. All three coatings reduced leaching of arsenic pentoxide, chromium trioxide, and copper oxide by over 99% in comparison to uncoated specimens. None of the water collected from the specimens coated with latex or oil-based paint contained any detectable copper, chromium or arsenic. In some cases, water collected from the specimens that were coated with the penetrating oil stain did contain detectable levels, but the highest level of arsenic detected in these samples was still well below the EPA's drinking water standard. This study suggests that the application of these common coatings is an excellent recommendation for consumers who are worried about chemical exposure from CCA pressure treated wood. For more detailed information on this study contact Stan Lebow, Wood Preservation and Fire Research Work Unit, Forest Products Lab at 608.231.9411 (voice), 608.231.9592 (fax), slebow@fs.fed.us (e-mail).
It should be pointed out, however, that this test did not address how well these coatings stood up to wear and tear. Previous research on this issue has resulted in the following recommendations when considering the maintenance of a deck. A water repellent preservative (WRP) is the easiest to maintain on a deck. Since WRP's are considered a penetrating finish, they let the wood breathe and do not peel. They usually last one year. The next best finish is a semi-transparent oil-based stain also considered a penetrating finish. The expected service life of semi-transparent stains is two to three years. Film forming finishes such as paints are prone to fail by peeling and are not recommended for decks due to the issue of higher maintenance. The service life of paints will depend on its abrasion resistance. Although water repellents require more frequent application than other kinds of finishes, the ease of refinishing compensates for the increased frequency of application.
3. What steps can one take to reduce their potential exposure to CCA?
Here are some common sense tips for minimizing unnecessary exposure to CCA: treated wood should never be burned in open fires, stoves, fireplaces or residential boilers; always wash hands thoroughly after contact with any wood, especially prior to eating and drinking; food should not come into direct contact with any treated wood; always follow the precautions outlined in EPA's Consumer Safety Information Sheet before working with CCA pressure treated wood; apply a coating product to pressure treated wood on a regular basis; and when conducting new construction or repairs, consider the range of alternatives to CCA pressure treated wood.
4. Should I replace my CCA pressure treated deck or playground equipment?
EPA does not recommend that consumers replace or remove existing structures made with CCA pressure treated wood or the soil surrounding those structures. Concerned citizens may want to take extra precautions, however, by applying a coating to exposed surfaces on a regular basis.
5. How can I tell if my deck has been constructed with CCA pressure treated wood?
Freshly treated wood, if not coated, has a greenish tint, which fades over time. As a practical matter, CCA has been the principal chemical used to pressure treat wood for decks and other outdoor uses around the home. Generally, if your deck has not been constructed with redwood or cedar, then most likely the deck was constructed with CCA pressure treated wood. Alternatively, if you know who constructed the deck, you may want to call and ask.
6. What alternatives to CCA pressure treated wood will be available?
The wood treating industry continues to research and test safe, effective wood preservatives. Two wood preservatives are now being marketed as substitutes for CCA pressure treated lumber. These include Ammoniacal Copper Quat Type B (ACQ-B) and Copper Azole Type A (CBA-A). Although these alternatives are considered to be more environmentally friendly than CCA, they are more difficult to obtain due to a very small market share. This results in a higher priced product. However, this situation is expected to change since the alternatives will increase
their market share in the coming years. In addition, untreated wood (cedar and redwood) and non-wood alternatives, such as plastics, metal, and composite materials are available. For more information concerning the availability of alternative products contact your local lumber retailer.
"I will at all times conduct my business in a fair and honorable manner……." 
I wish everyone else followed a code of ethics  but there always has been and always will be a crooked element in our society that preys on the innocent. This section highlights some of those contractor DO NOTS as well as some things to look out for. Although we can not possibly think of every scam or lie out there (takes a criminal to think like a criminal) we will list what we have heard or seen. Please feel free to help in building this section by sending us your account of a false claim or scam that have been tried on you. Together maybe we can help save someone else some unnecessary pain.
S-C-A-M-S
1) You'll never have to paint it again!
I recently submitted a thread to a prominent bulletin board that caters to our industry. The question posed to other power washing companies was simple. What scams have you encountered in your professional career? (In so many words) The following is an actual reply. (name removed)
I ONCE let a guy in my house from a "you'll never have to paint your house again" vinyl painting co. gave wife & i a $14,000 estimate (1200 sq/ft) & we in turn gave him an escort to the door… then he dropped it to $11,500 if he could put a promotional "sign" in my front yard… i helped him find the door again….
Despite what people say, there really isn't much of anything (none that I can think of) that is truly maintenance free. 25 years ago, vinyl siding was touted as maintenance free and folks shelled out huge bucks to get on this band wagon for that reason. The reality is most siding manufactures suggest you clean or power wash your siding every two years for proper maintenance. Painted surfaces break down over time as the sun's ultraviolet light and heat bears down on them (oxidizes). As it oxidizes, it turns into a slightly colored, chalky substance. Auto or industrial pollution (petrochemicals), mold and mildew will add to this breakdown.
Be careful when a company makes a claim of "never again". Chances are you will at some point have to do some type of maintenance to whatever it is your having done.
Case in point: There is a nationally recognized company claiming that their "deck treatment" is guaranteed to last 25 years! Man that sure sounds good doesn't it? What they don't tell you is that they add silicone to their product. That's great if your sealing concrete but not so hot when you want to restore your deck after it turns gray again the VERY NEXT YEAR! Silicone will prevent water from soaking into the surface but  does nothing to protect against UV damage. Without that needed protection, it will take about a year (most times less) for your deck to start turning gray again. One of the reasons a deck turns gray is that water washes out the natural color and resins. In that respect silicone does help but the UV light will still turn it. The main problem with this type of coating is that silicone, once in the wood does not come out. The company explained to me that there is 1/64 inch wood surface left exposed that can be power washed/brightened when it does finally turn gray. Ok, and then what about the next year? What if you want to add color to it with a penetrating stain two or three years down the road? The silicone will prevent it from getting in. In my humble opinion, this company is setting themselves up for a class-A!
---
2) WOW THAT'S CHEAP!
Here is another reply I received….
Person A) "$39.00 house wash with the bullied upsell of everything else. Freakin hacks………….I want to kick them also."
Person B) "Awe c'mon? $39.00? (not the actual reply someone gave-edited to make it clean)."
Person A) "Yep, $39.95 but they upsell like crazy. I've heard it becomes a forced upsell,bad business. The newest one I noticed in today's paper is "We'll beat any bid by 75% with signed contract". I wish I could bid all of the same jobs before they do. I would bid a whole house washes for $15.Then give the customer this ad and say call them,they can beat my price".
Person c) "The $99.00 deck idiots. The same idiots offer "Cedartone Gold" as an upcharge to their victims. This is basically TWP (brand name of stain) Cedartone mixed 1 to 1 with low grade mineral spirits. Gawd,I hate morons……………."
Remember the old saying, "if it's too good to be true, it probably is."
There are legitimate offers/discounts that a consumer can take advantage of but the extreme low ball offers like the above scenarios are setting you up for trouble.
---
3) Where did you say you're located?
Avoid scams & fraud by dealing locally! Beware any deal involving Western Union, Moneygram, wire transfer, cashier check, money order, shipping, escrow, or any promise of transaction protection/certification/guarantee.
---
DON'T DO THAT!
This section addresses some of the common mistakes the untrained contractor might make. This isn't to say that people don't make honest mistakes or are incapable of making mistakes, but their are some DEFINITE no-no's in our industry that you want to beware of.
1) The 4,000 PSI Bandit! There are some companies that claim they can remove all of the failed stain on your deck without using any chemicals (promoting earth friendly procedures). That means they are going to rely on mechanical means of removal (e.g.. water blasting/sanding). High pressure on a deck/fence, especially cedar will cause unnecessary damage. That much pressure will splinter wood, raise grain and in a lot of cases cause irreversible damage (Pic1, Pic2, Pic3). Then to add insult to injury, they will compensate for this by sanding the entire deck down (if your lucky). The problem with that much sanding is that it closes the pores of the wood, preventing a good penetrating stain from getting into the wood were it does the most good.
2) DON'T aim the power washer at an upward angle when cleaning lap siding. This can drive water behind the siding. Also, the force of the water can lift the siding from the wall. A lot of ill equipped contractor's try to fit a square peg into a round hole when they clean exterior siding with the wrong type of wand. This is common with some painters as well when they wash your house before the new paint job. Or worse yet, your house doesn't get washed or improperly washed before that new paint job. Guess the news, a poorly prepared surface will yield premature failure.
3) Is it dry yet? One common reason deck stains fail prematurely is that it was coated while the wood was still wet. It is possible to wash a cedar deck or fence on Monday and come back to stain it on Tuesday but a moisture meter should always be used to check to make sure the moisture content is below 15% (12% ideally). Don't let someone rush your stain job just because he is moving out of the area. Make sure that the deck or fence is dry!
4) High concentrations of sodium hypochlorite (bleach) to clean siding or wood. This is another no-no. Although, used properly, under certain circumstances with the right dilution ratio, bleach can be an effective tool against mildew, too many contractors use it as the end all cleaner. The primary reason is to save a buck or two. Bleach is relatively inexpensive and their bottom line increases. The downside is the risk for damage increases. A hint that you are dealing with an unqualified contractor is if they say they will be using Chlorine Bleach to "restore" the wood.
5) "Latex Shmatex"- I am so sick of this one. Contractor's that insist a solid color latex is best for a new deck. The forest products laboratory in Madison Wisconsin says different. Latex stain/paint was not meant for an exterior deck! Period. Don't let someone talk you into putting this type of stain on your deck. Unless that is what YOU want. Read the following for more info on the differences. Stain Vs Paint
---
Things to look for in a contractor:
The contractor should be able to offer proof that they have knowledge of the trade by certifications, affiliations to manufacturers , distributors , franchises , business or trade organizations. Most of the reputable manufacturers and organizations offer courses and/or certifications. A consumer should feel free to ask if a contractor has any of these in their background. Some examples of these maybe, the Pressure Washers of North America(PWNA) , stain and sealer manufacturer certificates or affiliations , the Better Business Bureau , a Chamber of Commerce , or any way to determine they are in fact a "professional" with knowledge of the trade. A professional contractors appearance and conduct is just as important. Look for things like uniforms, logos on items like business cards, stationary, vehicles, etc.. The contractor who gets out of an old broken down car or van with a pressure washer hanging out of the back , who then knocks on the door wearing the clothes they slept in the night before is probably someone you should not hire. Don't be afraid to ask questions like ; Are you affiliated with any organizations? , What are your qualifications? , Do you or your company have any certifications?, What is your experience/ , and What types or brands of coatings do you use and why? , just to name a few.
The finish line
A Forest Products Laboratory finishing factsheet
Paint, Stain, Varnish, or Preservative?
It's Your Choice
If you've ever admired an old, unpainted barn that has survived 100 years or more of weather, it's easy to wonder why you should use a finish on your home. However, the cracks, fissures, and air spaces that give weathered barn siding its character wouldn't be acceptable on most houses.
While you can't completely arrest or reverse the weathering of exterior wood, you can slow the process dramatically by using the right type of finish. Appearance, durability, cost, surface type, ease of application, and maintenance should all be considered when selecting an exterior finish.
Two basic types of finishes or treatments are used to protect wood surfaces from weathering: those that form a film or coating on the wood (film-forming finishes) and those that penetrate the wood surface. Film-forming materials include paints, solid-color stains, and varnishes. Penetrating finishes include preservatives, water repellents, and pigmented semitransparent stains.
What you choose to protect and enhance the beauty of wood always involves trade-offs. You should select the finish that best suits the application.
Film-Forming Finishes
Paints-Latex Is Best
Paints form a thin layer over the surface to which they're applied. The pigments in the paint protect the surface completely from the damaging ultraviolet (UV) rays of the sun and erosion. The finish retards the movement of moisture into and out of the wood and seals in the natural resins. However, paint won't prevent decay if conditions are favorable for fungal growth.
Oil-base or alkyd paints are essentially suspensions of inorganic pigments in an oil or modified oil vehicle that binds the pigment particles to the wood surface. Latex paints are suspensions of inorganic pigments and various latex resins in water. Acrylic latex resins are flexible and very durable. A good acrylic latex outdoor house paint will generally outlast a good oil-base house paint. Latex paints are also more porous than oil-base paints; they can "breathe" while they shed water. This characteristic may contribute to their longevity. If water enters the wall from an interior source, it's more likely to get trapped in the wood beneath an oil-base finish, and it can cause the paint to blister. Moreover, oilbase paints tend to become brittle.
Acrylic polymers are more resistant to sunlight than oil-base paints and therefore do not weather as quickly. However, woods like redwood and cedar have water-soluble extractives that can bleed through latex paints. The best way to prevent this is to seal the wood with an oil-base or stainblocking latex primer paint, then topcoat with acrylic latex paint.
Wood is easier to repaint before the first coat fails. Paints weather away; self-cleaning paints weather at a faster rate than other paints. Ideally, wood should be repainted when the topcoats have weathered to the point that the primer is just starting to show. Painting too often can build up too many layers of paint.
The north side of a building does not need to be repainted as often as other sides because it is exposed to less direct sunlight. Apply one topcoat to this side instead of two, or paint this side less often. The optimum thickness for a primer and two topcoats is 4 to 5 mils (1 mil = 1/1000 of an inch), about the thickness of a sheet of newspaper.
If the paint has peeled, the easiest way to prepare the wood for repainting is by power-washing. Power-washing or sanding (with 50-80 grit sandpaper) also improves the ability of new smooth siding to hold paint and removes weathered fibers of unfinished wood that have been exposed to sunlight for more than a few weeks.
Life span of different kinds of finishes

| | |
| --- | --- |
| Water repellents |  6-12 months |
| Clear water-repellent preservatives | 1-2 years |
| Pigmented water-repellent preservatives | 2-3 years |
| Varnish | 2-3 years |
| Solid-color stains | 3-7 years |
| Semitransparent stains | 3-8 years |
| Paints | 7-10 years |
  Note: The life span of water repellents, water-repellent preservatives (Gear or pigmented), and semitransparent stains can be extended by refinishing if discoloration caused by mildew or other factors is a problem.
Before applying paint, treat wood siding and trim with a paintable water-repellent preservative. This can be done by brush after the siding or trim is in place, or by dipping the wood before installation. All lap and butt joints of solid wood and all panel edges should be especially well-saturated.
Allow the treatment to dry for at least 2 warm, sunny days before applying the primer. If the wood has been dip treated, let it dry for about a week. Two coats of a good-quality acrylic latex house paint should be applied over the primer. In general, quality is directly related to price.
Brush application is always superior to roller or spray application, especially with the first coat. The job can be done faster if one person sprays the paint and another uses a brush to work the paint into the wood and even it out. Each coat should be applied within 2 weeks of the previous one, to avoid formation of a slick soaplike or chalky substance on the surface. If more than 2 weeks have elapsed, scrub the paint with water and a stiff-bristled brush before applying the next coat.
Temperature is important. Don't paint on a cool surface that will be heated by the sun within a few hours or at the end of a cool day when heavy dew will form at night. The temperature must stay above 40°F (4°C) for 24 hours for oil paints and above 50°F (10°C) for latex.
Solid-Color Stains
Solid-color stains also form a film. They look and act like thin paints. Use a primer and two coats of stain. Refinishing may require only one coat. Like paints, latex solidcolor stains are usually more durable than oil-base stains. Solidcolor stains are preferable to paints when the wood is refinished frequently.
Varnishes
Varnish is another film-forming finish. However, because varnishes are clear, they require frequent maintenance to be attractive. Sunlight degrades both the varnish and the wood fibers directly beneath it. Some varnishes have chemicals that partially block UV radiation, but varnishes all soon begin to crack, peel, and flake, taking along the fibers of photochemically degraded wood. The wood needs to be cleaned and revarnished as soon as this breakdown occurs. Varnish lasts only 1 to 2 years on wood exposed to full sun, but longer on shaded wood. The life span of varnish can be extended by first staining the wood and then applying many coats of varnish.
Penetrating Finishes
Penetrating finishes absorb into the wood, saturating the surface fibers and partially or completely filling the surface pores. Many penetrating finishes contain water repellents, usually in the form of paraffin wax dissolved in mineral spirits.
Water repellents are usually clear. They can be used alone as a natural penetrating finish or as a treatment prior to painting. Check the label of the finish to make sure that it is paintable.
Many clear penetrating finishes contain wood preservatives in addition to water repellents; these penetrating finishes are much better for outdoor use. The preservatives control the growth of mildew and other fungi. Some preservatives also discourage insect infestation. This is especially important in moist, shady locations.
Water-repellent emulsions have been developed for waterborne formulations, but these may not penetrate as well as the formulations made with mineral spirits.
Semitransparent StainsOil Is Best
Semitransparent stains are penetrating finishes with inorganic pigments. High quality stains contain wood preservatives and water repellents. Semitransparent stains penetrate the wood without forming a film, allowing much of the wood grain to show through the finish. Latex-base semitransparent stains are film-forming finishes and will not perform like true penetrating stains. Oil-base semitransparent stains allow the wood to "breathe," so the finish doesn't blister or peel even if the moisture content of the wood is high. The pigment in a semitransparent penetrating stain greatly increases the durability of the finish by absorbing much of the UV radiation that would otherwise degrade the wood. The properties of the pigment, resin, preservative, and water repellent determine the durability of exterior stains.
Penetrating stains perform best on roughsawn, weathered, or coarse-textured wood. If you are finishing smooth wood, powerwash, sand, or wet the surface to relieve stresses and open the surface pores. Unlike paints, stains can be applied to weathered surfaces without preparing the surface. If the surface is dirty or has mildew, clean it with bleach and detergent before applying the finish. Penetrating stains are suitable for siding, trim, exposed decking, fences, and roof shingles.
Stains may be applied by brush, spray, or roller. To prevent lap marks, finish the board or panel in one working session.
Working in the shade will give the best results because longer drying time means greater penetration of the stain.
For best results, roughsawn or weathered lumber should be treated with two coats of penetrating stain; the second coat should be applied before the first is dry. If the first coat has completely dried, it may seal the wood surface so that the second coat scarcely penetrates. To prevent formation of a film, an hour after applying the second coat, use a cloth, sponge, or dry brush lightly wetted with stain to wipe off any excess stain  that did not penetrate the wood. Remember that sponges or cloths soaked with oil-base or alkyd-base stains are particularly susceptible to spontaneous combustion; they should be buried, immersed in water, or sealed in an airtight metal container.
Natural Finishes
A natural finish means different things to different people. To some, a natural look means rough, gray, and weathered (nature's "natural finish"). To others, a successful natural exterior wood finish is one that retains the original, attractive appearance of the wood with the least change in color and the least masking of the grain and surface texture. In this case, the finish should inhibit the growth of mildew micro-organisms, protect against moisture and sunlight, and not change the surface appearance or color of the wood.
The "weathered look" can be obtained in several ways. Do nothing until the wood turns gray, then treat the wood regularly with a water-repellent preservative or a gray semitransparent stain. This will extend the life of the wood. If you want to obtain a weathered look quickly, apply a gray stain; as the stain weathers, the wood will turn gray naturally. Maintain the finish with a stain or waterrepellent preservative.
You can preserve the original color of the wood in several ways. From the start, treat the wood with a water-repellent preservative at least once a year, or apply a semitransparent oil-base stain (containing a water repellent and preservative) of the same color as the wood. The pigment in the stain protects the wood and extends the life of the preservative. If the wood turns gray, the preservative has failed. Most gray discoloration is caused by mildew. Power-washing, bleach, and some commercial cleaners remove gray discoloration.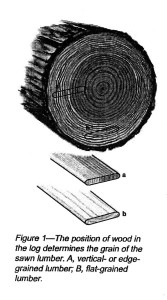 Wood Properties
Since wood properties vary, the type of wood is an important consideration in choosing a finish. Wood that has minimum tendency to shrink and swell is the best for painting because there's less chance that the paint will crack as the wood shrinks and swells. Vertical-grained (edge-grained) wood is subject to about half the shrinking and swelling of flatgrained lumber (Fig. 1). Wood density also affects swelling. Low-density woods are better for painting than denser species. Lowdensity softwoods like western redcedar and redwood have excellent properties for finishing; pine and fir also retain paint well, particularly if the wood is free of knots. As more wood is being cut from younger trees, more boards are containing juvenile woodwood formed during the first few years of growth. Juvenile wood shrinks and swells at a very high rate and requires a penetrating finish. Like wood with knots, juvenile wood easily releases extractives, which bleed through paint.
In general, it is best to paint over a fairly smooth and stable surface. Flatsawn and dense woods can be stabilized with a resin-treated paper overlay. This type of lamination is most frequently applied over exterior plywood or stabilized fiberboard, and it makes an excellent surface for painting.
Roughsawn exterior plywood siding is best finished with a semitransparent penetrating stain or solid-color latex stain.
Preservatives
Preservative-treated wood such as wood pressure-treated with chromated copper arsenate (CCA) is frequently used for outdoor porches and decks. After a few years, some boards may check or crack as part of the natural weathering process. Weathering can be reduced by using a penetrating finish that contains a water repellent early in the finishing process. Allowing a deck to weather for a year opens the surface pores and permits the wood to accept more finish, but this weathering damages the wood. Research indicates that it is better to finish a deck as soon as it is dry (a few weeks after construction) and to refinish it in 2 years.
To paint treated wood, make sure the wood is clean and dry. Porches and decks can be painted, but be prepared for problems like decay, a slippery surface, cracking, checking, and flaking. Use a very good porch and deck enamel for the two topcoats. Water-repellent preservatives and semitransparent penetrating stains must be reapplied more frequently than paint, but reapplication is easy. Simply brush a generous amount of finish onto the wood; after 20 to 40 min, wipe off any excess finish that remains on the surface.
Mark Knaebe is a chemist in Wood Finishing Research at the USDA Forest Service, Forest Products Laboratory, One Gifford Pinchot Dr., Madison, WI 53705-2398
December 1995