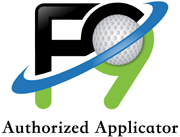 Rust and orange battery acid stains can be some of the most problematic and challenging to remove. Hiring Aqua Pro Cleaning Solutions to extirpate these unsightly blemishes is your best advantage! Using plain water with conventional surfactants and sequestrants won't work in addressing rust removal and commonplace cleaners will often leave unsightly stains and marks on the concrete. Some acids may have limited success but many times damage the concrete by etching the surface thereby damaging the integrity of the substrate. This only leads to disappointment and expensive repairs later on.
Aqua Pro Cleaning Solutions is pleased to announce our solution to eliminate rust and orange battery acid stains from a variety of surfaces.
This rust removal  achievement is realized through the use of a specialized cleaner known as F9 Battery Acid Restoration Cleaner (BARC). Analysis and comparison testing have shown that this cleaning agent, offered by Front 9 Restoration, is one the most competent and effectual battery acid, fertilizer stain and rust removal products demonstrable.
We at Aqua Pro Cleaning Solutions are delighted to include this rust removal benefaction to the list of comprehensive cleaning services we currently offer. This service is exclusive in that we can now offer a solution to the issue of rust stains on a variety of surfaces including, Battery acid stains on concrete, battery acid stains on colored concrete, battery acid stains on pavers, building restoration: Black streaking, dumpster pad cleaning. fertilizer rust stains on concrete and pavers, irrigation and sprinkler rust, rust stains in pool, rust on sidings and shutters and more.
Call Aqua Pro Cleaning Solutions today if you're in need of any one of our services or please visit our online estimate link to get the process started today.